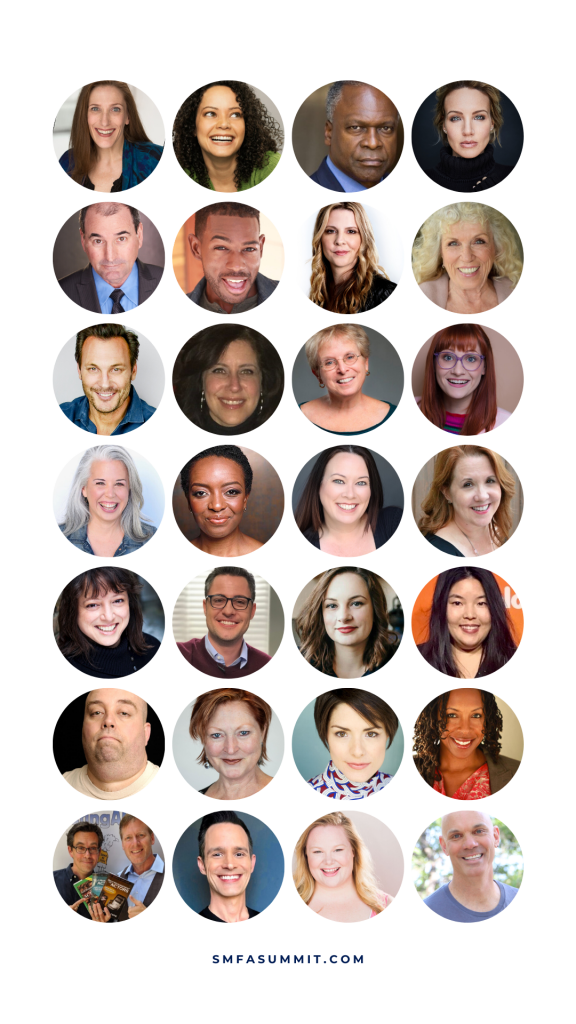 In addition to sharing knowledge, wisdom, vulnerability, authenticity, and grace, some of these incredibly brilliant and generous people have also created some fabulous offers exclusively for SMFA Summit attendees! Aren't you *so* in the right place at the right time?!? YES!
Check back for updates and please read carefully so you are sure to follow the guidelines to qualify for these offerings. If you have *any* questions, reach out to our help desk. We've got you!
The drawing-based giveaways are now CLOSED FOR ENTRY. We will be revealing the winners of each of the drawings at our last livestream of the SMFA Summit (May 31st, 12pm PDT).
Make sure you hit the replay pages after each interview premieres so you can spend more quality time with these amazing humans!
* * *
Blair Hickey & Brian Wold from CastingAbout are setting you up with a free week of CastingAbout just by heading over here. No credit card required… and as you research all these casting directors, everything you store in your show bible there will remain… should you choose to set up a membership at a later date. Cool! Oh… and this just in!! ONE lucky winner will get SIX FREE MONTHS of membership — just pop your interest in the comments below and we'll do a drawing at the end of the summit!
Lenka Šilhánová from Social Media for Actors is adding a bonus guide to building healthy habits using social media for everyone who signs up for her social media mini-coaching session. You can apply for your mini session and grab your bonus here. Please put promo code SMFASUMMIT in your application.
Play-cultivator Tanya Perez is hosting four Playground Labs using the principles of play theory developed through Creatively Independent. These are Friday Fundays through June and if you want to play for free, you can email Tanya at info@creativelyindependent.net to jump in a 45 min jam over Zoom. Let's PLAY!
Mark Gantt is discounting his one-hour video consultation to $270 (a 65% discount off the normal fee of $680). This SMFA Summit exclusive session includes his 55-page Book More Work and Define Your Artistic Vision workbook. Offer ends 5/31/20. Pop the $270 in at this link to book your consult!
Miata Edoga from Abundance Bound has set up a coupon code (SMFA2020) for you to get discounted membership (just $20/mo.) in her inspiring and supportive Financial Empowerment Program.
Laurie Records from Commercial Classes by Laurie will give you a bonus post-class 15-minute one-on-one consult when you enroll in any of her one-day online classes through June! Just hit the commercial classes button at this page.
Kyle Kittleson from MedCircle.com has landed you 50% off an annual all-access membership at MedCircle.com! Just enter the code EDU60 at MedCircle.com/code to begin.
Deb Mellman from DM PR is doing two-for-one PR consults! Her normal half-hour consultation price is $100. For $100, SMFA Summit attendees get TWO sessions. That's an initial conversation and discussion about your career, with notes and homework, followed by a second session within 30 days to go over homework and changes suggested. To book, reach out through the form on Deb's site. This offer is only good through June 30, 2020.
Dayeanne Hutton from Twitch will help you translate your Bonnie teachings into valuable Twitch knowledge. You'll learn how to utilize what you already have to create an online personality and begin making money! Hint: You already have a lot of the necessary knowledge and equipment in your actor's toolkit! Pop your interest in the comments below and Daye will let you know how to snag a one hour session for $50 (That's a 50% discount!) and begin creating content today! ALSO: Dayeanne can get you 10% off Corsair products with code DAYE.
Judy Kerr from Acting Is Everything is going to do a half-hour Zoom, Skype, or FaceTime coaching call for *three* lucky SMFA Summit attendees. During your session, you can ask for acting advice, career advice, or help with an audition!
Tamika Simpkins from Red Rose Design Studio is going to do *three* website analysis consultations!
Leah Cevoli from Greenlight Your Passion Project is discounting her one-hour Coffee Chat Strategy Sessions to just $65 for SMFA Summit attendees (these sessions are usually $200/hr.)! To book, click here.
Mary Lou Belli is giving away a copy of *three* of her books: The Sitcom Career Book, Acting for Young Actors, and Acting for the Screen.
Barry Friedman from Showbiz Blueprint is hosting an exclusive AMA (ask me anything) for SMFA Summit attendees on Sunday, June 21st at 4pm PDT (check your local time zone). Comment below that you're in and we'll get you all the details. Then for one amazing hour, Barry will help us all dig in and move some big rocks.
Lynn Stallings from Atlanta Workshop Players has generously offered TWO big goodies: tuition for the virtual AWP Summer Movie Camp ($775 value) with stellar, award-winning industry pros (camp is for ages 8 to 18) *and* tuition for the virtual Actor's Pro-Track for Adults — five workshops and showcase ($150 value).
Janet Tscha of JT Talent will look over your headshots to help you identify your best commercial looks! This is a free service for which we'll do a drawing at the end of the SMFA Summit.
Donzell Lewis has two cool offers: THREE kids' audition sessions are available (so, *three* different winners of one session each — totally free) *and* one lucky winner will receive two 45-minute private martial arts lessons.
David H. Lawrence XVII from VO Heroes has set up free access to the brand spankin' new version of Getting Started in Voiceover as well as a discounted half-hour coaching session, dealing with anything that is stopping someone from getting started in voiceover. (Session price is usually $175; SMFA Summit attendees are in for just $50!) Visit voheroes.com/bonnie for both offers.
David Nathan Schwartz is offering 45-minute virtual coaching sessions for just $30! These sessions are available until October 1, 2020. Just reach out using the info on this page to get started.
We also have a special bonus goodie from the fine folks at WeAudition! With promo code SMFA25, you'll get 25% off your membership at the site that helps ninjas with rehearsals, meetings, and self-taped auditions every day! Join at WeAudition.com today.
And finally, you will land yourself a free private coaching session with Bonnie Gillespie ($500 value) when you enroll in Get in Gear for the Next Tier during the SMFA Summit! No drawing for this one… no limit! If you're finding this community, the abundance of motivation, and the unending support to be something you'd like to have in your life ONGOING, just head over to this page to enroll and as long as that happens before the end of May, you're gonna have some quality coaching time on top of a 100-day journey that will forever transform your relationship with your creative career. Yay!
All right, y'all… let's DO this! Who's excited?!? WE ARE!