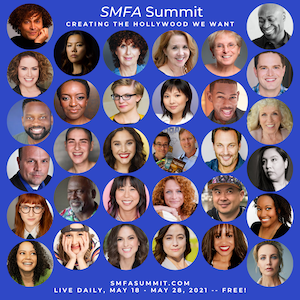 You've hit the motherlode! In addition to sharing knowledge, wisdom, vulnerability, authenticity, and grace, some of these incredibly brilliant and generous SMFA Summit speakers have also created some fabulous offers exclusively for SMFA Summit attendees! If that weren't enough, this page is *also* filled with goodies from some of the amazing JFDI with Bon masterminders. Aren't you *so* in the right place at the right time?!? YES!
Check back for updates and please read carefully so you are sure to follow the guidelines to qualify for these offerings. When the offer is available or the drawing is happening via COMMENTS YOU LEAVE ON THIS PAGE, please create ONE comment PER item you want (meaning, we will *ignore* any comments that say "Enter me in everything." That's not ninja).
If you have *any* questions, reach out to our help desk. We've got you!
NOTE: Winners of our drawing-based giveaways will be contacted via email at the end of the SMFA Summit (May 31st).
Make sure you hit the links in the offers below as well as the SMFA Summit replay pages after each interview premieres so you can spend more quality time with the amazing humans! It's a great way to see if your energy clicks so you'll know exactly how excited to be about these phenomenal offers.
#CreatingTheHollywoodWeWant
* * *
A. Jay of ONA Photography is offering all SMFA ninjas $75 off your headshot session! Just head over to the ONA Photography booking page and scroll down to see your special SMFA Summit deal for the amazing shoot you'll have!
Allison Grischow of The Joyful Actor is providing all SMFA ninjas with their FREE guide called How to Take Action to Achieve Your Dreams Without Burning Out Along the Way. This guide breaks down all the steps in Allison's Joyful Action Method to help you achieve your creative goals in a healthy, sustainable way. Grab yours at this link today.
Amelia Rico of Ricornel Productions is offering one free demo reel edit (including capturing your footage available online) *and* one free monologue custom written just for you. To express your interest in either of these offers, comment below that you're like to go into either of these drawings (be specific about which one, please) and 'til the drawing, visit this page to peruse these services and more.
Blair Hickey & Brian Wold from CastingAbout are setting you up with a free week of CastingAbout just by heading over here. No credit card required… and as you research all these casting directors, everything you store in your show bible there will remain… should you choose to set up a membership at a later date. All that and… ONE lucky winner will get SIX FREE MONTHS of membership — just pop your interest in the comments below and we'll do a drawing at the end of the summit!
Constance Zaytoun of Constance Cooks will help you kick up your bar game for your next-tier soiree with a summit-special private home bar audit AND cocktail consultation. Bonus! Book your audit before the end of June and you'll receive a bottle of Doc Z's barrel-aged cocktail ($30 value). Book your audit and grab your bonus right here.
Actress, comedienne, and coach Crista Flanagan is offering 50% off the July edition of her On-Camera Comedy Class to all SMFA Summit attendees. Whoa! This is a GREAT deal… and Crista will even do a free mini-consult with you to be sure it's a good fit. Get on this, y'all! Read all about it here.
EFT/tapping coach for creatives Dana Middleton of The Aligned Artist is offering SMFA Summit attendees her Audition EFT Kit: Using EFT to Align with Auditioning and Booking — FREE. Woo HOO! Ready for an effective tool to help you align with every aspect of the audition process? This is your auditioning advantage. This is a free vid series with tap-alongs and a discovery workbook for you to take it to the next level. Grab your freebie here.
DaveTheEditor (Dave Manship) of Edit Plus is providing SMFA Summit attendees an incredible deal on his DemoReelPro series. He will teach you how to edit your own demo with a goal-oriented approach. If your goal is to get your first network CO-STAR, there is a class for that. If your goal is to move from CO-STAR to GUEST STAR, there is a class for that. If your goal is to move from GUEST STAR to RECURRING and SERIES LEAD, there is a class for that. When you buy two classes, you'll GET ONE CLASS FREE. (Regular price: $750; SMFA Summit price: $500. Just click through here to the SMFA Summit special!) If that weren't enough, DaveTheEditor is also offering discounted Zoom sessions for SMFA Summit attendees who want to learn where to start in editing their clips — or maybe you're starting your own editing business and want to take it to the next level? To accept this offer, email Dave here and say you're interested in the SMFA Summit Zoom session to "Edit Better Clips" (Regular price: $75; SMFA Summit price: $35). Woo HOO!
Dayeanne Hutton from Twitch will help you translate your Bonnie teachings into valuable Twitch knowledge. You'll learn how to utilize what you already have to create an online personality and begin making money! Hint: You already have a lot of the necessary knowledge and equipment in your actor's toolkit! Pop your interest in the comments below and Daye will let you know how to snag a one-hour session for $50 (That's a 50% discount!) and begin creating content today! ALSO: Dayeanne can get you 10% off Corsair products with code DAYE.
Actor and human butterfly Deb Snyder would love to host a Zoom roundtable for actors over 50, to chat about the journey and support one another! Just share your interest in the comments below and she'll be in touch to set something up. That's it!
Money mindset coach Desirée Mee Jung has offered all SMFA Summit attendees a bonus 20-minute follow-up call for all 1-on-1 private coaching sessions! NOTE: She is booked through June, so your money session will take place in July at the earliest. BUT in order to get this deal, you need to fill out the form here (hit the GET STARTED button under PRIVATE COACHING) by May 31st. After that time, this offer will expire. Be sure to mention you came through the SMFA Summit when you fill out the form.
Fellow ninja Emily Kindred is offering a free 1-hour Zoom class called "No Budget Producing: How to Crew Up and Get People to Work for Free." After the free Zoom (date TBD), there will be a discounted SMFA Summit attendee offer to go deeper. To join in the FREE Zoom, email Emily here with the subject line "Sign me up!"
Crowdfunding expert Isabelle Pierre has helped her clients raise over $75K by creating a system for crowdfunding success. With her guidance, her clients were able to create their own content and take ownership of their careers. Crowdfunding doesn't just require a team, but you can also thrive under the direction of a coach who understands exactly where you've been! Isabelle is offering a 30-minute strategy call for $50 (regular price: $150/hr.) to SMFA Summit attendees who preorder her forthcoming book, Making the Big Ask: Prompts and Guides for Your First Crowdfunding Campaign. Head over here to get started — redeemable through August 31st.
Instructional designer Jacqueline Steiger is offering all SMFA Summit attendees a free "Is Instructional Design Right for You" discovery meeting. Also, Cracker Jack will give away one FREE interactive learning experience on her website! Post in the comments below that you'd like to be in the drawing for this offer, or to take her up on the discovery meeting.
Jennii Vo Le of TELL a ViiSiiON has helped actors gain clarity on their career concepts, feelings of enoughness, and a better understanding of themselves to support their acting career utilizing Reiki and astrology to help identify an artist's energetic blocks and activate their inner knowing so they can step into their power. TELL a ViiSiiON RPG is a specialized program specifically for actors and is currently not offered to the public. Consider this a customized-to-you 1-on-1 alchemical energetic session in which you learn how to develop your own intuitive gifts. Regular price: $400; SMFA Summit price: $250. This is for one 2-hour session and two 1-hour follow-ups. To apply for this special SMFA Summit offer, visit this website, click the "PLAY TELL A ViiSiiON RPG" button, and enter the secret password (ALL CAPS): SMFANINJA!
Actor and intuitive coach Jonté LeGras would love to sit down for a coffee talk with you! Just share your interest in the comments below and he'll be in touch to set something up. That's it!
Judy Kerr of Acting Is Everything fame is going to do a half-hour Zoom, Skype, or FaceTime coaching call for *three* lucky SMFA Summit attendees. During your session, you can ask for acting advice, career advice, or help with a self-tape audition! Pop your interest in the comments below and we'll do a drawing to see who wins these amazing sessions (Note: These were HUGELY popular at last year's summit, and with good reason)! ALSO, if you'd like a copy of the Acting Is Everything eBook, email Judy here and use the subject line BOOK to let her know you'd like your very own guide.
Kathi Carey, author of Cast Yourself: The Actor's Guide to Self-Producing, is giving away *four* copies of her amazing book! Just post a comment below that you'd like to be one of the 4 lucky winners and we'll do a drawing and then share the winners' email addresses with Kathi (she'll follow up to get your mailing address to send your book directly through to you from Amazon). Thank you, Kathi!
Luckiest man in the world and script doctor Keith Johnson is giving away *3* 30-minute sessions to discuss content creation ideas and how easy it is to create your own stories. If you're in need of original demo reel footage, this is your first stop! Pop your interest in the comments below and Keith will reach out about your session if you're on of the 3 lucky recipients of this 1-on-1 time.
Emmy-winning actor Kim Estes would like to chat with the shyest, most introverted participant in the SMFA Summit. Not quite sure how we'll determine you're the most qualified for this offer, but let's start by having you post your interest in the comments below. It'll be a 30-60 minute session and then a follow-up chat two weeks later, mentorship style. This is a GEM of an offering! Hope you're not too shy to express your interest in this!
Kristen Girard from Radiance and Grit helps you discover self-love. She works daily with a whole flock of dragons so she's uniquely qualified to help guide you on your journey to feeling at peace with your whole self. She helps you see that you are not your circumstances or illness or challenges. If you are ready to take the next step on your healing journey and learn to love yourself inside and out, through good times and bad, then sign up for the wonderful course she created for you called The Love Who You Are With Radiance and Grit Masterclass: A Field Guide for Figuring Out How to Tenaciously Love Yourself Even If You Have No Idea How to Start. If you sign up before May 31st, you'll receive super cool bonus access to the Resilience and Dragons Workshop: An Intensive for Figuring Out How to Live and Flow With Your Dragons Instead of Feeling Like You Have to Fight Them All the Time ($297 value). Just pop code SMFALOVE21 in at checkout here.
Lenka Šilhánová from Social Media for Actors is including a free copy of her Social Media Post Ideas for Actors eBook when you book a Social Media Audit with her. The Social Media Audit is a custom video in which Lenka goes over your social media profiles, giving you tips on what to improve. This offer is valid until May 31st. Simply put the code SMFASUMMIT in at the audit form you receive *after* you buy your Social Media Audit at this link to receive your free eBook.
Hyphenate trailblazer Mark Gantt is discounting his one-hour video consultation to $259 (a 35% discount). The Streamy Award winning co-creator and star of The Bannen Way takes the mystery out of creating your own career and living your vision. This SMFA Summit exclusive session includes his 55-page Book More Work and Define Your Artistic Vision workbook. Just pop the $259 in at this link to book your consult and get your bonus.
Author, director, and mentor Mary Lou Belli is giving away one copy each of *two* of her books: The Sitcom Career Book and Acting for Young Actors. Put your interest in the comments below and we'll be in touch to get the mailing addresses of the two winners of the drawing (lots of interest on these great books).
Copywriter and content creator Quincy Cho is offering up her script editing FINAL PASS service. Get your script proofread or copyedited before you submit it to festivals, for representation, or to contests. Proofing services (grammar, spelling, etc.) are $1/page. For heavier copyediting (streamlining stage directions, cleaning up sluglines, etc.), the rate is $2-3/page. Also available for SMFA Summit participants, Quincy will do a FREE content creating consultation! Have a feel, short film, or webseries you want to shoot but you need a producer and a team to shoot it? Let's talk! Just pop your interest in the comments below and Quincy will be in touch to set it all up.
Wealth coach Rhianna Basore of Self-Trust Fund is offering an SMFA Summit MONEY MONSTER intensive! Defeat the money mindset that's holding you back and and build the prosperity practices to keep them gone for GOOD. Dig deep with Rhianna for a full 90-minute coaching conversation into your money past, financial present, and abundant future. Schedule your session before June 30th and grab email and voice message support from Rhianna (weekdays 9am to 5pm PDT) for the two weeks immediately following your intensive call. FREE! It's your favorite money coach in your pocket… score! Head over here to book.
Actor-writer-producer Sheila Houlahan teaches artists how to connect to their authentic voice through speech and song. Normally, she charges $85/hr. and is happy to offer a ninja discount and only charge $60/hr. with a free trial lesson to boot! Just fill out this form about her forthcoming course on finding your authentic voice and healing voice-based trauma and be sure to note your interest in claiming one of these discounted spots in that form. Woo HOO!
Tamika Simpkins from Red Rose Design Studio is going to do *three* website analysis consultations! If that weren't enough, for those who don't snag one of those three spots, Tamika is offering a 50% discount on a full website analysis to all SMFA Summit attendees. Comment below to get in the running for a freebie and Tamika will be in touch with you from there!
Play-cultivator Tanya Perez is hosting four Playground Labs using the principles of play theory developed through Creatively Independent. These are weekly jumpstarts held for four weeks and if you want to play for free, you can email Tanya with a click here to jump in a 45 min jam over Zoom. Let's PLAY!
We also have a special bonus goodie from the fine folks at WeAudition! With promo code SMFA25, you'll get 25% off your membership at the site that helps ninjas with rehearsals, meetings, and self-taped auditions every day! Join at WeAudition.com today.
And finally, you will land yourself a free small-group coaching session with Bonnie Gillespie when you enroll in Get in Gear for the Next Tier during the SMFA Summit! No drawing for this one… no limit! If you're finding this community, the abundance of motivation, and the unending support to be something you'd like to have in your life ONGOING, just head over to this page to enroll and as long as that happens before the end of May, you're gonna have some quality coaching time on top of a 100-day journey that will forever transform your relationship with your creative career. Yay!
All right, y'all… let's DO this! Who's excited?!? WE ARE!